Congratulations! Han's Yueming laser group won second-class reward of China light industry association science and technology progress award.
By : Han's Yueming Laser Group 2018-05-17 Share: Back to list
Congratulations!
China National Light Industry published 2017 Science and technology of China light industry association, Light industry enterprise management modernization innovation achievement and the second China light industry excellent design award list.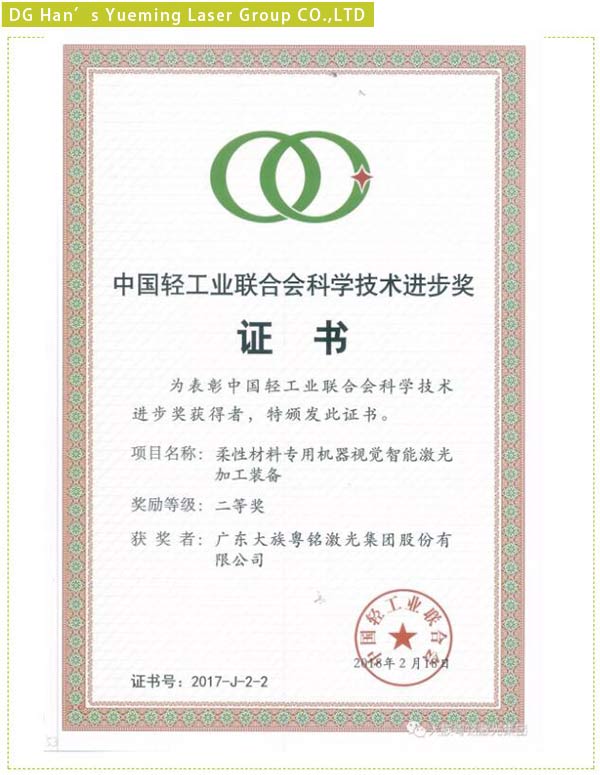 'Flexible material machine vision intelligent laser processing equipment' was declared by Yueming laser group co.,ltd with excellent strength and extraordinary technological innovative ability, picking up Second Class Award of Science and Technology Improvement.
GD Han's Yueming laser Group co.,ltd
At present, Made in China has entered upon a new area. Han's Yueming laser group realized technical innovative constantly, strengthen laser equipment innovation and upgrade efforts in the face of the new command of Green manufacturing, mass production, intelligentized manufacturing provide efficient automatic, highly intelligent flexible solution of laser cutting machine application for the new recommend of flexible material laser processing production field and helping customer enhance core competitiveness.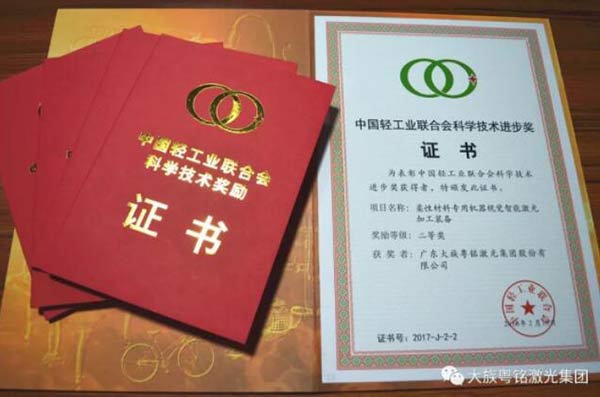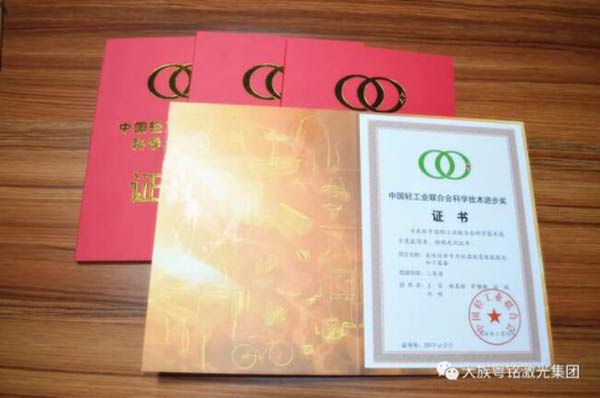 Yueming laser Group co.,ltd continued to pursue innovation-driven development. We will always adhere to the "quality to win in the market, the market price to challenge to serve to deepen the market.'' It adheres to the road of independent innovation for leading the new trend of future intelligentized manufacturing. Han's Yueming laser Group co.,ltd will contribute to 2025 Made in China through its own development!
PREVIOUS: Super attractive business card, laser cutting and hollowing made for you
NEXT: The strategy of showing frog: travel frog wool fabric laser cutting machine
Laser engraving notebook writing inner story...
Words are one of the important witnesses of memory,Notebooks are important carrier of words. It foll...
Wedding dress laser cutting equipment create romantic and perfect wedding...
Every girl has a dream of a romantic wedding dress in her heartThe most romantic gift is to marry a...
Customized Personal Goods: Laser Marking mobile power...
The appearance of mobile power on the market is endless and dazzling. Users are not only satisfied w...
The Technical Process for Laser processing Leather Belt...
As a indispensable element for fashion , leather belt play a vital role although people always turn...
VIDEO CENTER