YM1218-1200W Die Cutting Laser Machine Group

    

YM-1218 constant light digital control cutting machine YMF-1200W CO2 axis high-power laser generator Assisting Devices: Double warm/cool water cooling unit special for laser machines Three phase voltage stabilizer special for laser machine Air compressing and cleaning system: oil-free air compressor+ oil and water filter+ high efficient and precise filter+ cooling dryer Vacuum sweeper Efficient Laser Processing Machine Group High investment and output ratio, moderate costRecommended Application:Large and medium-sized packaging company for their own use, to ensure the production goals fulfillment, meet customerized orders demands.
Features:
◆Yueming Laser's various products are widely applied in processing of color packaging box and cutting die borad,carbon steel sheet,stainless steel sheet,other sheet metal, acrylics board, plastic board, compound material board and other non-metal boards etc.
◆YM-1218 laser cutting machine is tailored for die board cutting industry. Stable machine body, agile performance and softward special for laser cutting will enable you to accomplish the machining with ease, whose efficiency and quality are far beyond the traditional sawing. Furthermore, it can incessantly work 24 hours and will become money spinner of our customers.
◆Yueming's high quality products enjoy high performance price ratio, therefore once you choose our products, you can easily win in the competence.
◆So lots of products,among which there will be one tailored product special for you. we are laser processing application expert just by your side,your career partner and friend.
Precision digital control machine parameter

Axia laser generator parameter

Other parameter

Model

Working areal(mm)

Positioning precision

Repeatability

Max.speed
(m/min)

Model

Rating power W

Weight of machine
KG

Floor space
M2

YM-1212

1250x1250

10

YMF-600

600

4000

28

YM-1218

1800x1250

±0.01

10

YMF-1200

1200

4500

35

YM-2512

2500x1250

±0.02

10

YMF-1800

5000

5000

45
YM-1218 digital control laser cutting machine is designed and manufactured in accordance with the principle of constant light.its cutting power would not be affected by the optical path which ensure evenness and consistency of the cutting.and is convenient for maintenance.cross travel table is applied for the working platform of the machine.

YM-1218 digital control laser cutting machine is equipped with high quality Axis High Power CO2 Laser generator. The laser beam output from the laser generator, through treatment and transmission by the optical path system, will focus on cutting head. Further, assisted with cutting gas and under precision driven by the digital control machine, the laser cutting machining could be completed on all kinds of metal or nonmetal boards.

With functions of CAD/CAM automatic programming and optimizing the lay-outs,the controlling software of YM-1218 digital control laser cutting machine runs on Windows Operation System, and can identify many kinds of CAD graphics. in consideration of customers 'convenience, user can also build their own laser cutting database and then select the processing program directly from it.

Key components of YM-1218 digital control laser cutting machine, such as CNC system, servo motors and dirvers,precision straight ball-guide,precision ball bearing screw rods,opticl lens etc.,are all imported originally,that is to ensure the reliability and stability of the machine.

YM-1218 digital control laser cutting machine equipped with two-temperature cooling units,and optional regulated power supply,oil-free air compressor,freeze drier,dust-exhausting equipment etc.auxiliaries to ensure the normal running of the whole umits.




High-Power Axis COz Laser Generator Based on Adcanced Foreign Original Tech nology
| | | | |
| --- | --- | --- | --- |
| | Digital control cutting machine: | | |


Precision digital control machine includes high rigidity framework body featuring good rigidity,stability and dynamic performance.

Y,Y,Z axes are driven by dervomotors from Japan Mitsubishi and Panasonic featuring good performance,quick reaction and free of maintenance.

Use Japan and Korea famous Precision ball screws to transmit power,The machine operates well and accurately with the dierction and support of precision ball linear guides.

Cutting Head is equipped with Positive pressure device to protect lens and nozzle from contamination of smoke,dirt and frost if cold etc.

The cutting head could automatically follow and adjust distances between parts to ensare fixed focus to improve the cutting quality.

Specially designed dust-exhausting equipment to keep the working condition free of smoke contamination.


| | |
| --- | --- |
| | |
| dust-exhausting designed to keep free of smoke contamination. | automatically focus,modularized lens convenient for change. |
| | |
| | |
| High precision zero-clearance ball-bearing screw rod. | High precision straight ball-guide |
Adopted foreign original advanced technologies and vital parts imported,the axis high power CO2 laser generator boasts for its excellent spot mode,short inflation time,high-efficiency motion,stable output and 23 hrs contunuous running.

Accurate Optical resonant cavity and Collimation technology can guarantee excellent and stable laser beam and focus.

American II-VI optical lens or topnotch lens of other brands to ensure the high quality beam.


YMFLaser Technical Index Performance Parameters

Technical Index

YMF 600

YMF 1200

YMF 1800

Rating Power(w)

600

1200

1800

Max.Power(w)

700

1500

2000

Beam Mode

TEM00+TEM10

Stability of Laser Power

±1%

±1%

±1%

Angle of Emergence(mrad)

≤1.5

≤1.5

≤1.5

Diameter of Spot(mm)

Ø 16

Ø 18

Ø 20

Type of Laser

Axis DC Actuating

Wavelength

10.6μ

Power Supply

380V±5%, 50Hz-60Hz(Three Phase)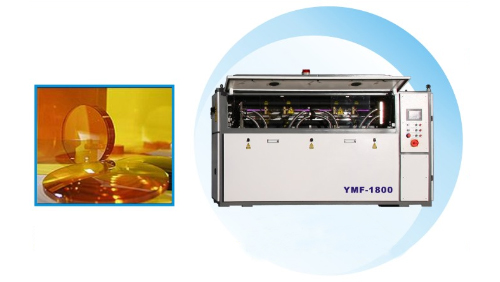 | | | | |
| --- | --- | --- | --- |
| | Operation and Control System | | |


High stable IPC devices, USB interface, fast analog imput/output, fast digit imput output module, peripheral devices are all controlled by PLC.

Software such as Windows operation system, PA 8000NT CNC system special for Laser Machine from Power Automation, laser power control and Z axis automatic execution following-up etc. are installed, which is easy for linear interpolation, circular interpolation, fitting, reverse clearance compensation, screw pitch compensation, cutting compensation.

The programming software(AcadRcam)special for laser processing is based on the CAD plarform,easy for human machine interaction and convenient for customers to modify processing detail or recompose program such as path sequence,graphics storage,fixed processing arrangement etc.

MCP Control Parel,17"screen,standard keyboard,mouse,chinese/English interface etc.are convenient for your operation.

Expert database system is loaded and data can be selected from the database automatically or manually during cutting,customers can build their own cutting database according to their experience from which during programming favorable program can be directly leaded.


Standard IPC and Expanded Module
PLC
17" large screen dispaly,standard keyboard,mouse,chinese/English interface are easy for your operation.
Automatic Arrangement System
Software Special for CNC Cutting-PA8000NT
| | |
| --- | --- |
| | |
| | |
| Voltage stabilizer special for laser machine | Double warm/cold water cooling unit special for laser machine |
| | |
| | |
| Air compressing and cooling dryer | Exhaustor |
| | |